Sean Sawatzky / General Manager
Sean is responsible for overseeing the overall operation of Real FM. He does a little bit of everything, but his primary duties include fundraising and budgeting, legal and FCC compliance, and general day to day operations.
---
Ansen Bayer / Program Director
Ansen co-hosts Afternoons on Real FM and oversees all aspects of Real FM's on-air programming. His duties include designing and managing Real FM's website and mobile apps, as well as designing visual branding for Real FM's promotional efforts.
---
Kara Culver / Production Director
Kara co-hosts Afternoons on Real FM and oversees the production of Real FM's on-air promotional spots. If you hear something on-air that's not a song or a DJ speaking, chances are you're listening to Kara's work!
---
Isaac Weaver / Social Media Director
Isaac hosts Middays on Real FM each weekday from 10am-3pm. When Isaac isn't on the air, he serves as Real FM's social media director, coming up with fun and relatable content to share with you on Facebook, Twitter, and Instagram.
---
Mark Michaels / Faculty Advisor
Mark teaches and advises Real FM's student DJ's through Radio Practicum classes at John Brown University.
---
Holly Hook / Donor Relations
Holly oversees Real FM's donor relationships and prayer ministry. If you are attending an event, stop by the Real FM table and introduce yourself! Holly always enjoys putting faces with names.
---
Scott Thompson / Director of Database Management
Scott helps mange Real FM's constituent and donor databases, and lends his expertise to making sure all the right information is in all the right places and available to all the right people.
---
Kelly Keys / Office Manager
If you call Real FM, Kelly might be one of the friendly voices you'll hear on the other end of the line! Kelly answers and addresses donor questions and concerns, oversees mailings, makes administrative purchases, and just generally ensures that the office runs smoothly.
---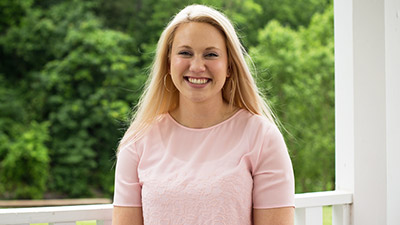 Lauren Elge / Donor Support Specialist
Lauren is the newest member of the Real FM team! Lauren welcomes visitors to the Real FM studios, answers phones, processes donations, assists donors with the giving process, and helps throw some pretty great staff birthday parties!
---
Charlie Smith / Technician
Charlie installs and maintains all of our studio equipment. He also serves as an electronics technician for the Performing Arts department at John Brown University.